Product Description
Model:AMT-RGB+CCT-05
Product name:RF2.4G Touch RGB+CCT Controller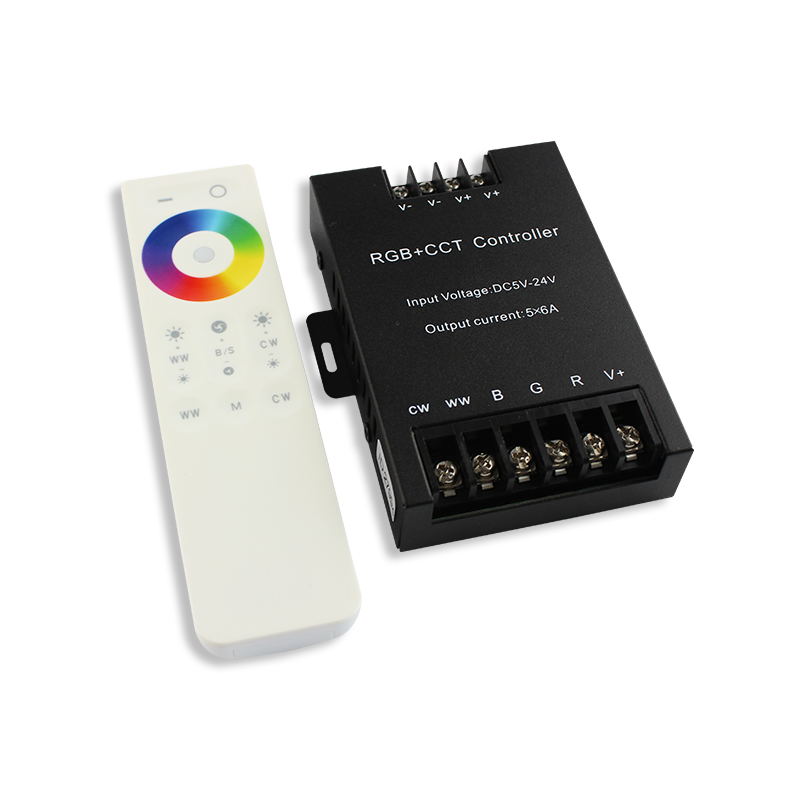 Product Description
This 2.4G Touch Remote RGB+CCT controller is human touch type and key control type universal RGBWW controller. Adopting the most advance PWM control technology, can control all kinds of 5 channel (common anode) and 6 wires LED lights. Such as LED module, led strip, led control box, led source, etc. This controller is easy to connected with wires and very simple to use. It is with synchronous indicating light and power off memory function. User can choose different changing mode, adjust the speed and brightness, turn on/off by the remote controlling. User can get flash effect, strobe effect, fade effect etc according to their demand .
Technical Parameters
● Working temperature:-20~55℃
● Supply voltage:DC5~24V
● Output:5 Channel
● Connection mode:Common anode
● Controller size:L110.7×W75.1×H25.5mm
● Remote size:L150×W40×H13mm
● Static power consumption:<1W
● Output current:<6A/CH
● Output power:5V:<150W;12V:<360W;24V:<720W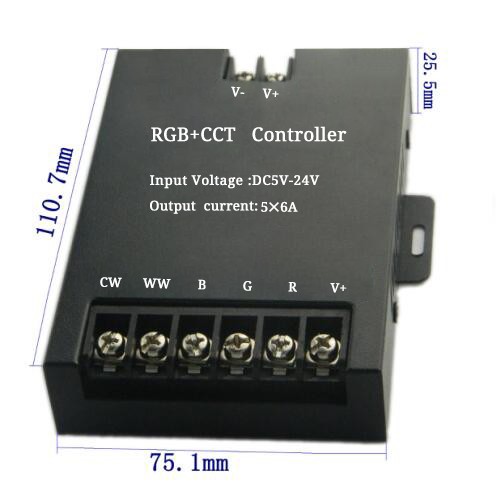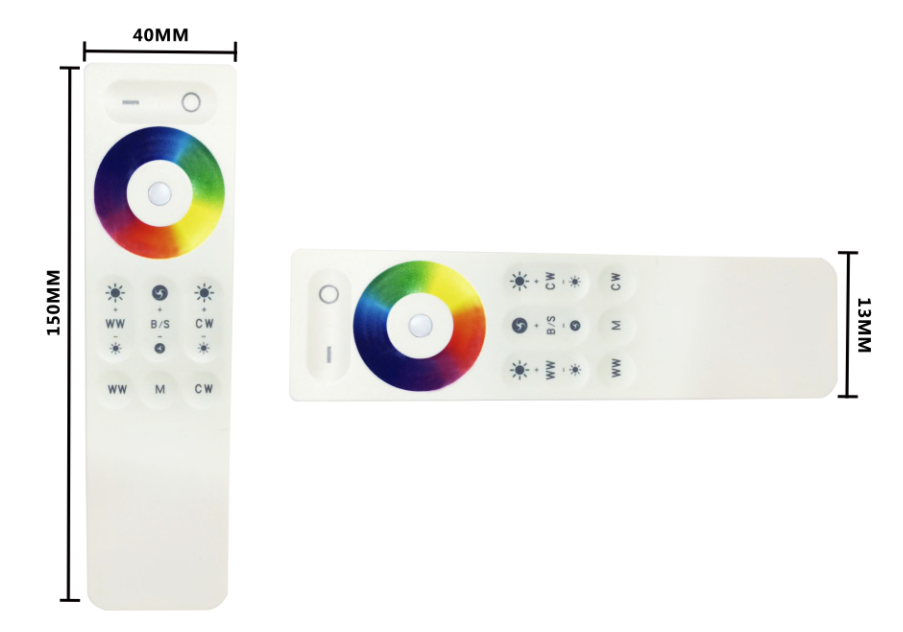 Connection description:
Power input interface: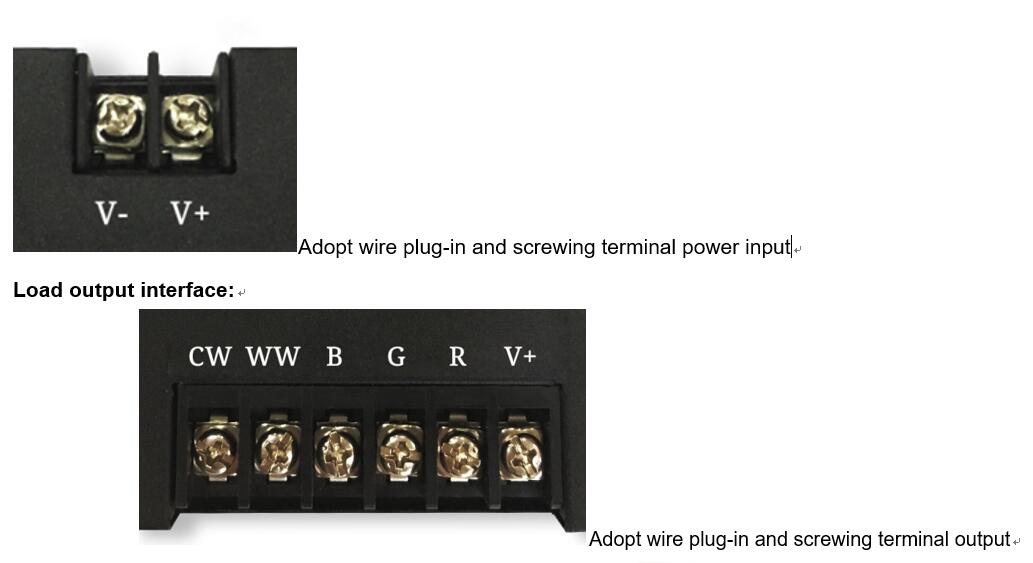 ● Remote Function introduction:
1、Use the 2.4G frequency RF remote control, no need to make the remote direct to the controller, and the RF remote can control it across obstacles.
2、In the open area remote control distance is about 30 meters.
3、Adopt touch control remote, slightly touch the color wheel can switch the light color easily and smoothly
● Operation method:
1、Connect the load wire at first, following by the power wire; Please make sure no short circuit between connecting wire before you turn on the power;
2、the WW and CW ON/OFF button is effective in the OFF station, press the power button for the first time then controller will enter to the last mode before turn off the controller last time (memory off function).
3、Press ON button to start, then press mode button can switch the 25 modes as following:
Number

Mode

Adjustable state

1

3 colors Fade

Brightness is adjustable, speed is adjustable

2

7 colors Fade

3

Mix white Fade in & out

4

Warm White Fade in & out

5

Cool white Fade in & out

6

Warm-Cool white Fade in & out

7

Red-Warm white-Cool white Fade in & out

8

Green-Warm white-Cool white Fade in & out

9

Blue-Warm white-Cool white Fade in & out

10

3 colors-Warm white-Cool white Fade in & out

11

7 colors-Warm white-Cool white Fade in & out

12

Mix-Warm-Cool white Fade in & out

13

3 colors Strobe

14

7 colors Strobe

15

Mix White Flash

16

Warm white Flash

17

Cool white Flash

18

Warm-Cool white Flash

19

Red-Warm white-Cool white Flash

20

Green-Warm white-Cool whiteFlash

21

Blue-Warm white-Cool whiteFlash

22

3 colors-Warm white-Cool whiteFlash

23

7 colors-Warm white-Cool whiteFlash

24

Mix-Warm-Cool whiteFlash

25

Automatic Cycle